Hub, Professional Achievement App
Key Stakeholder
CEO/Product Manager, Eric Ly
Background
I joined the Hub team in October of 2018 to help build an app around professional communities. Hub is a blockchain startup in Mountain View founded by Eric Ly, LinkedIn co-founder. The team consisted of myself, Sally Chen (UX and Visual Designer) and Eric Ly (Product Manager and CEO).
Sally and I worked closely together on building the MVP version of the Hub app. My primary focus was designing the web experience while Sally focused on mobile. Together we worked as a team to deliver a cohesive MVP across web and mobile.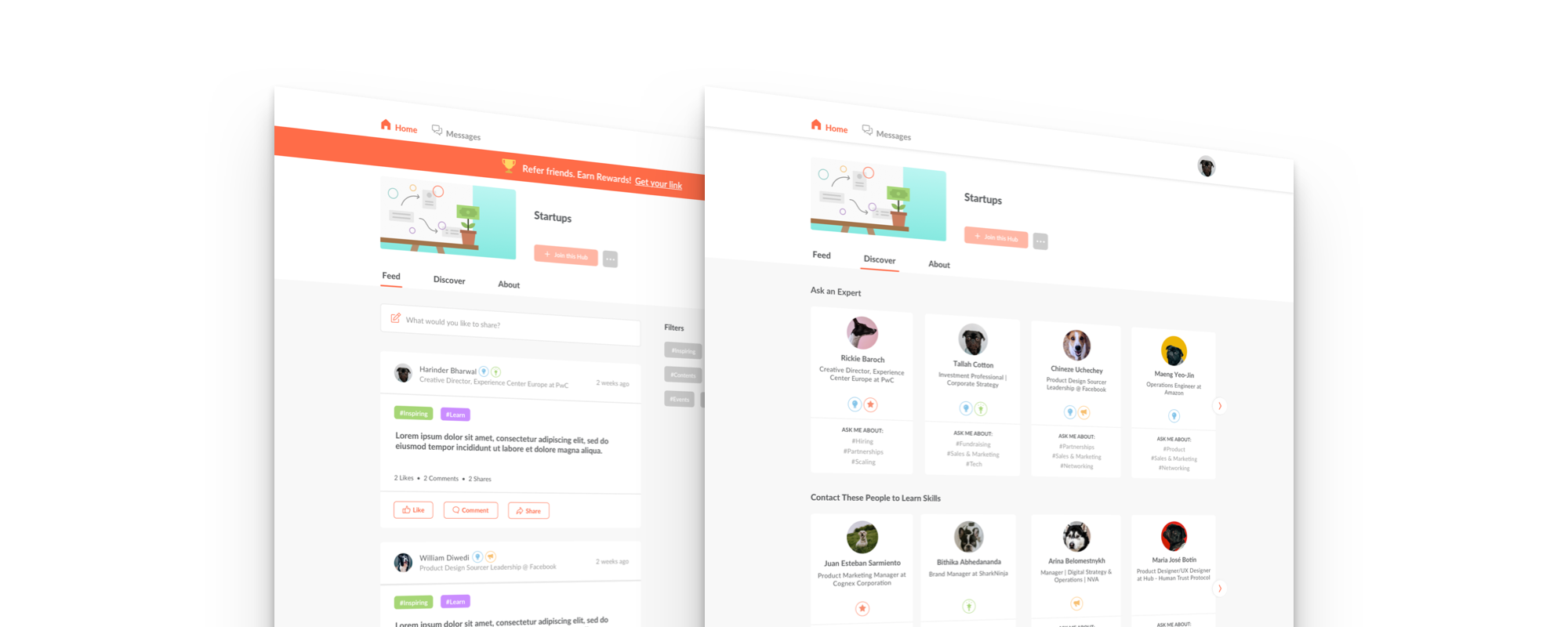 Hub's MVP Features
Choose your objectives
Pain Point from research:
People in professional communities are not sure if others in the community are open to messaging others.
"I'm going to feel weird I message someone and they don't respond" – Maria
"I reached out cold call to someone on LinkedIn, they didn't feel like they wanted to help so I didn't do it again"  – Megan
Solution:
Allowing the user to choose why they are on Hub helps other members of the community know what they are open to.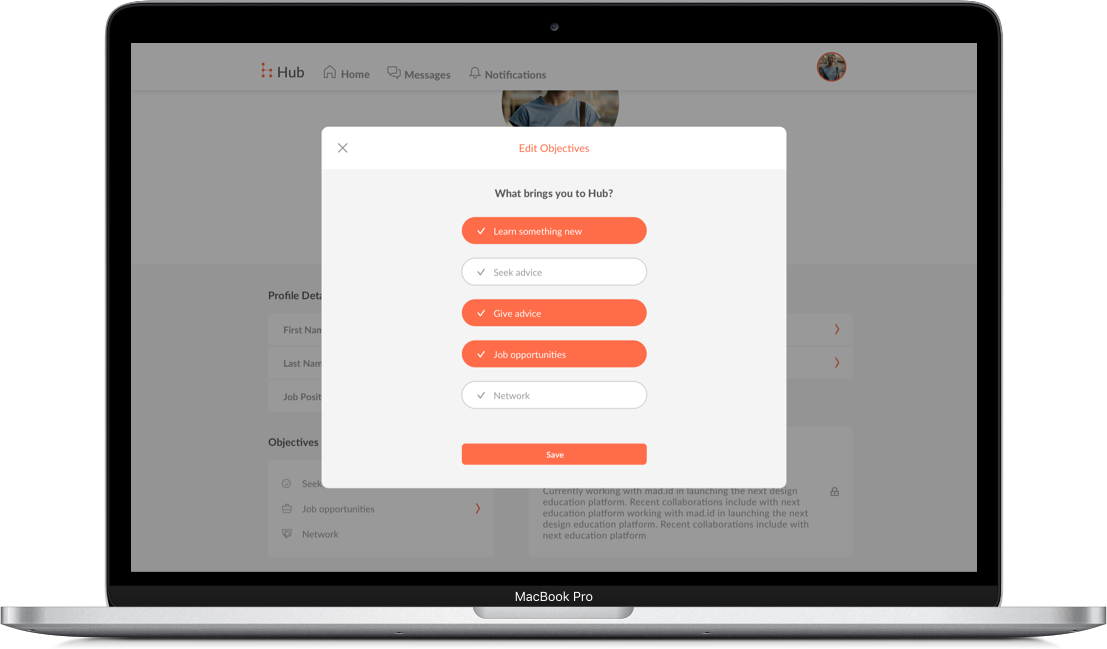 Filter your content
Pain Point from research:
It's hard to find relevant content on news feeds such as Reddit, Facebook, LinkedIn.
"There is too much noise on slack" – Megan
"It's hard to find links on slack because I can't remember who or when it was posted" – Denise
Solution:
When creating content, users are required to choose tags that best describe that they're posting. This helps the user to find the most relevant content.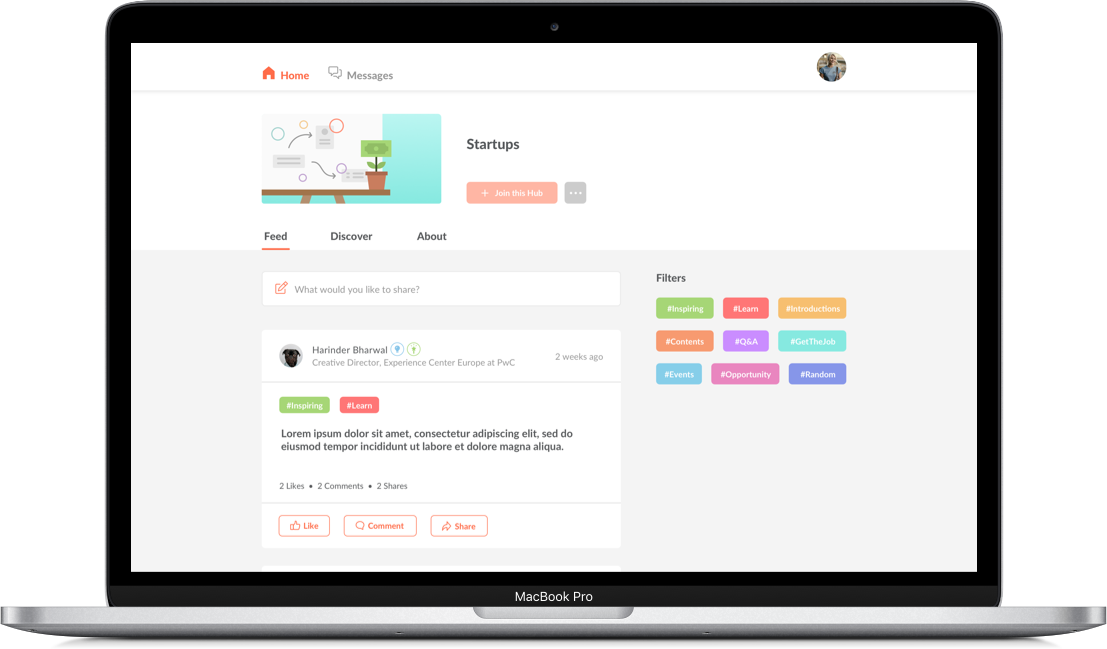 Discover Members
Pain Point from research:
People in professional communities often do not know who they can reach out to for help.
‍"I'm trying to learn as much as possible" – Suzanne
"I want to give back to my community because I know how it feels to go through this journey" – Olivia
Solution:
When joining a Hub, users can choose skills they want to share and skills they want to learn. This helps everyone in the community see how they can help others, as well as see who they can learn from.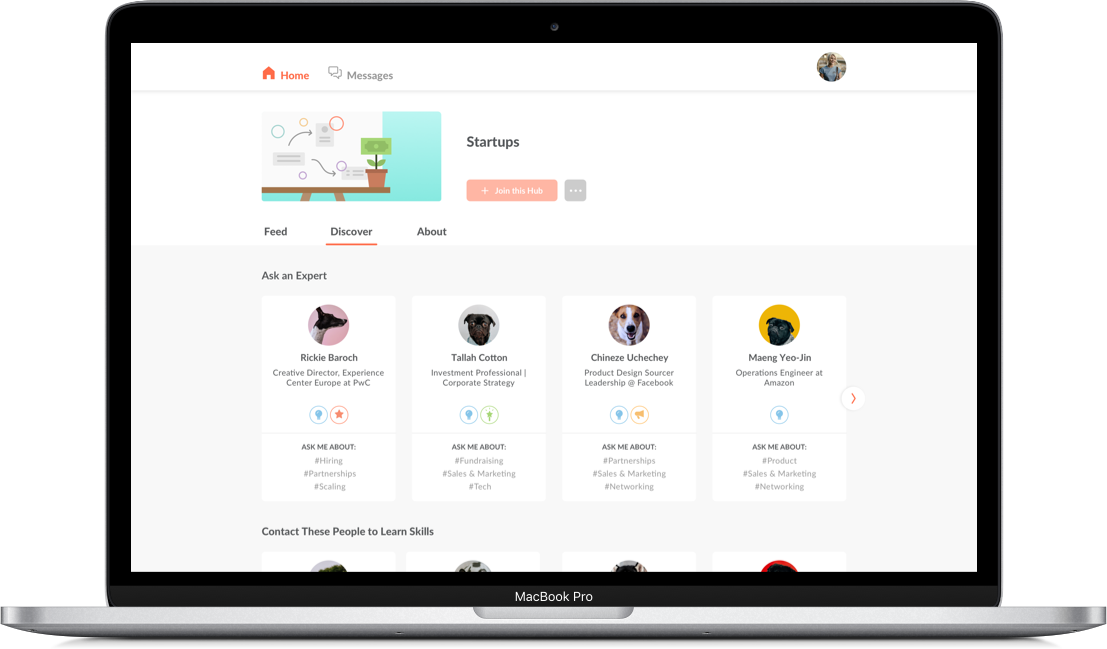 Looking for the full case study?
If you'd like to read the full case study on Hub's MVP or have any other questions about the project, please contact me at hello@joannajliu.com.